Der Artikel wurde erfolgreich hinzugefügt.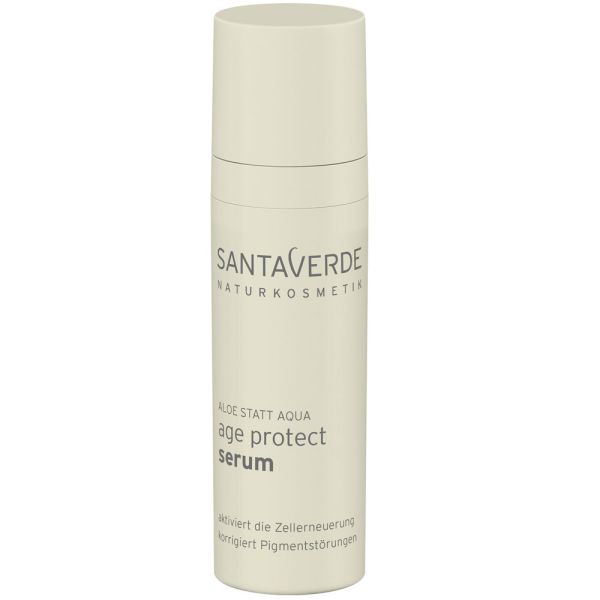 Inhalt:
30 Milliliter (186,33 € * / 100 Milliliter)
inkl. MwSt.
Versandkostenfrei in DE!
Auf Lager, Lieferzeit 1-2 Werktage 1 Artikel, Auf Lager, Lieferzeit 1-2 Werktage

-1 Artikel müssen nachbestellt werden. Lieferzeit ca. 2 Werktage
Geplante Lieferung Donnerstag, 28.01.2021
Achtung:
3% ab 40 EURO | 5% ab 60 EURO | 8% ab 100 EURO
8% Rabatt ab 100,00€
Bis zu 8% Rabatt auf Ihren Einkauf
| | |
| --- | --- |
| ab 40 EURO | 3% Rabatt |
| ab 60 EURO | 5% Rabatt |
| ab 100 EURO | 8% Rabatt |
Die Umsatzrabatte gelten nicht auf reduzierte Produkte, Staffelpreise, Abo Artikel und in Verbindung mit einem eingelösten Gutschein!
Artikel-Nr.:

BG-50900

EAN:

4005529240407

Versandgewicht:

0,07 kg
Das Geheimnis der Santaverde Kosmetik ist purer, einzigartig wirkstoffreicher Aloe Vera Saft aus dem eigenen, kontrolliert biologischen Anbau in Andalusien. Santaverde setzt den reinen Saft anstelle der üblichen Hauptkomponente Wasser in ihren Rezepturen ein, ergänzt um wertvolle Pflanzenöle und -extrakte. So wird eine einzigartige Wirkung für die Gesundheit und Schönheit Ihrer Haut erschaffen. Das feine Anti-Age Serum aktiviert die Zellerneuerung und versorgt die Haut auch in tieferen Schichten optimal mit Feuchtigkeit. Reiner Aloe Vera Saft, Himbeersamenöl und Hyaluron spenden und binden aktiv Feuchtigkeit in der Haut und wirken sanft straffend. Antioxidative und zellschützende Wirkstoffe aus Aloe Vera Blüten und Erdmandeln reduzieren hautschädigende freie Radikale. Der Wirkstoffkomplex aus Wurzelextrakten korrigiert Pigmentstörungen und beugt ihrem Entstehen vor. Verleiht anspruchsvoller und sensibler Haut neue Energie und einen ebenmäßigen Teint.
Anwendung
Nach dem Reinigen und Tonisieren gleichmäßig auf Gesicht, Hals und Dekolleté auftragen und sanft einmassieren. Tipp: Je nach Hautbedürfnis in Kombination mit age protect cream, age protect oil oder als leichte Solopflege verwenden.
INCI
Aloe Barbadensis Leaf Juice*, Ruscus Aculeatus Root Extract, Aloe Barbadensis Flower Extract*, Pyrus Malus Fruit Extract*, Cyperus Esculentus Root Oil*, Persea Gratissima Oil*, Alcohol*, Hydroxystearyl Alcohol, Glycerin, Rubus Idaeus Seed Oil*, Hippophae Rhamnoides Fruit Oil*, Rosmarinus Officinalis Leaf Extract*, Astragalus Membranaceus Root Extract, Atractyloides Macrocephala Root Extract, Bupleurum Falcatum Root Extract, Sodium Hyaluronate, Helianthus Annuus Seed Oil*, Chondrus Crispus Powder, Sodium Lactate, Xanthan Gum, Glyceryl Caprylate, Hydroxystearyl Glucoside, Tocopherol, Ascorbyl Palmitate, P-Anisic Acid, Sodium Levulinate, Lavandula Angustifolia Oil*, Glucose, Sodium Phytate, Levulinic Acid, Sodium Hydroxide, Parfum**, Benzyl Salicylate, Citronellol, Eugenol, Geraniol, Limonene, Linalool. *Certified organic **Natural essential oils NATRUE certified organic skin care, free from synthetic fragrances, colourings and preservatives and 100 % vegan.
Inhaltsstoffe
Aloe Vera Saft*, Mäusedornextrakt, Aloe Vera Blütenextrakt*, Apfelextrakt*, Erdmandelöl*, Avocadoöl*, Weingeist*, pflanzl. Emulgator, pflanzl. Glycerin, Himbeersamenöl*, Sanddornfruchtfleischöl*, Rosmarinblätterextrakt*, Wirkstoffkomplex aus Wurzelextrakten, Hyaluronsäure, Sonnenblumenöl*, Meeresalgenextrakt, Natriumlaktat, Xanthan, pflanzl. Glycerinfettsäureester, pflanzl. Emulgator, Vitamin E, Vitamin C Palmitate, pflanzl. Anissäure, pflanzl. Natriumlevulinat, Lavendelöl*, Glucose, pflanzl. Natriumphytat, pflanzl. Levulinsäure, Natriumhydroxid, ätherische Öle. *Aus kontrolliert biologischem Anbau NATRUE-zertifizierte Naturkosmetik, frei von synthetischen Duft-, Farb- und Konservierungsstoffen, tierleidfrei und vegan.
| | |
| --- | --- |
| Vegan: | Vegan |
| Zertifizierung.: | NaTrue |
| Vegetarisch: | Vegetarisch |
| Produkt Linie: | Age Protect |
| Hauttyp: | Anspruchsvolle Haut, Trockene Haut, Mischhaut, Unreine Haut, Normale Haut, Empfindliche Haut |
Weiterführende Links zu "Santaverde age protect serum"
Weitere Artikel von Santaverde
Bewertungen lesen, schreiben und diskutieren...
mehr
Kundenbewertungen für "Santaverde age protect serum"
Bewertung schreiben
Bewertungen werden nach Überprüfung freigeschaltet.