Der Artikel wurde erfolgreich hinzugefügt.
inkl. MwSt. zzgl. Versandkosten
Auf Lager, Lieferzeit 1-2 Werktage 5 Artikel, Auf Lager, Lieferzeit 1-2 Werktage

-5 Artikel müssen nachbestellt werden. Lieferzeit ca. 5 Werktage
noch 5 auf Lager
Geplante Lieferung
morgen, 27.01.2021
Bestellen Sie innerhalb von
2 Stunden und 6 Minuten
dieses und andere Produkte.
Achtung:
3% ab 40 EURO | 5% ab 60 EURO | 8% ab 100 EURO
8% Rabatt ab 100,00€
Bis zu 8% Rabatt auf Ihren Einkauf
| | |
| --- | --- |
| ab 40 EURO | 3% Rabatt |
| ab 60 EURO | 5% Rabatt |
| ab 100 EURO | 8% Rabatt |
Die Umsatzrabatte gelten nicht auf reduzierte Produkte, Staffelpreise, Abo Artikel und in Verbindung mit einem eingelösten Gutschein!
Artikel-Nr.:

3700343040196

EAN:

3700343040196

Versandgewicht:

0,1 kg
100% natürlicher Wachs Roll on Schnell, einfach und effizient Haare entfernen. Der Roll on erlaubt einen dünnen, gleichmäßigen Auftrag für eine optimale Haarentfernung. Eventuelle Rückstände können mit Wasser entfernt werden. Die effektive Rezeptur enthält Bio-Rohrzucker und Zitrone und entfernt Haare für annähernd 3 Wochen.
Anwendung
Den Verschlussstopfen des Wachsflakons entfernen. Den Roll-on-Aufsatz (ohne Verschlusskappe) auf den Flakon aufklippen. Erhitzen im Wasserbad Den Wachsflakon in ein Behältnis mit kochendem Wasser tauchen. Den vollen Flakon auf diese Weise 3 Minuten lang erwärmen. Erhitzen in der Mikrowelle 15 Sekunden für einen vollen und 10 Sekunden für einen halbvollen Flakon. Vor der Verwendung des Flakons 20 Sekunden warten, bis sich die Temperatur im Inneren gleichmäßig verteilt hat. Der Flakon muss mit bloßen Händen gehalten werden können. Die Wachstemperatur vor jeder Verwendung testen. Dazu eine kleine Menge auf der Innenseite des Handgelenks auftragen. Das Wachs mit Hilfe des Roll-on-Aufsatzes langsam in Richtung des Haarwuchses auftragen. Den Vliesstreifen auflegen und fest in Richtung des Haarwuchses glattstreichen. Die Haut mit einer Hand spannen und den Vliesstreifen mit der anderen in einer raschen Bewegung entgegen die Haarwuchsrichtung abziehen. Den Vorgang mit dem gleichen Streifen so lange wiederholen, bis dieser nicht mehr klebt. Nach Abschluss der Enthaarung den Roll-on-Aufsatz entfernen und mit lauwarmen Wasser spülen. Den Flakon mit dem Verschlussstopfen verschließen. Darauf achten, dass kein Wasser in das Wachs gelangt. Tipps Das Wachs während des Enthaarungsvorgangs erneut erhitzen. Die Haut spülen, um evtl. Wachsreste zu entfernen. Achtung Das Wachs nicht übermäßig erhitzen, Ist das Wachs zu flüssig, ist es weniger wirksam und kann zudem schwere Verbrennungen bewirken.
INCI
Sucrose*, Aqua, Citrus Medica Limonum Juice* *Ingredients from organic farming 100 % of the total ingredients are from natural origin, 91,5% of the total ingredients are from organic farming.
Inhaltsstoffe
(deutsch) Rohrzucker*, Wasser, Zitronensaft* * Inhaltsstoffe aus kontrolliert biologischem Anbau 100 % der gesamten Inhaltsstoffe sind natürlichen Ursprungs, 91,5 % der gesamten Inhaltsstoffe sind aus kontrolliert biologischem Anbau.
| | |
| --- | --- |
| Vegan: | Vegan |
| Hauttyp: | Alle Hauttypen |
Weiterführende Links zu "Acorelle ROLL-ON ORIENTALISCHES WACHS"
Weitere Artikel von Acorelle
Bewertungen lesen, schreiben und diskutieren...
mehr
Kundenbewertungen für "Acorelle ROLL-ON ORIENTALISCHES WACHS"
Bewertung schreiben
Bewertungen werden nach Überprüfung freigeschaltet.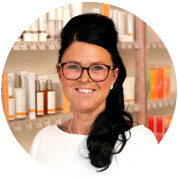 "Das sind meine
absoluten Lieblings-produkte in unserem Sortiment ..."

Annett
BioNaturel-Expertin