Der Artikel wurde erfolgreich hinzugefügt.
Inhalt:
50 Milliliter (17,80 € * / 100 Milliliter)
inkl. MwSt. zzgl. Versandkosten
versandfertig in 1-3 Werktagen
nicht rabattierfähig
Artikel-Nr.:

BG-54968

EAN:

3760211481155

Versandgewicht:

0,047 kg
Therapeutische Hydratisierung im Anschluss an eine Kur.
Therapeutische Hydratisierung:
Okklusivwirkstoffe: bilden einen Schutzfilm auf der Hautoberfläche und verhindern, dass die Haut Feuchtigkeit verliert (Hydratisierung und Schutz).
Weichmachende Wirkstoffe: machen die Haut zart (Geschmeidigkeit und Komfort).
Befeuchtende Wirkstoffe: hydratisieren die Hautoberfläche.
Dank seiner fluiden und leichten Textur ist das Feuchtigkeitsfluid für die Hände mit Bio-Zertifikat* Meteologic der perfekten Anschluss an eine reparierende Kur. Es dringt sofort ein und hydratisiert bis in die Tiefe, damit die Haut lange zart und geschmeidig bleibt.
INCI
Aqua, Butyro spermum Parkii Butter*, Helianthus Annuus Seed Oil, Diglycerin, Glycerin**, Olus Oil, Glyceryl Stearate Citrate, Squalane, Talc, Parfum, Polyglyceryl -­ 3 Stearate, Cera Alba*, Rissoella Verruculosa Extract, Gelidium Sesquipedale Extract, Maris Aqua, Hydrogen ated Lecithin, Xanthan Gum, Sodium Benzoate, Citric Acid, Potassium Sorbate, Sodium Phytate, Potassium Olivoyl PCA, Tocopherol, Sodium Hydroxide 99.6% du total des ingrédients sont d'origine naturelle / 99.6% of the total ingredients are from natural orig in 16% du total des ingrédients sont issus de l'agriculture biologique / 16% of the total ingredients are from organic farming
Weiterführende Links zu "Meteo Logic Feuchtigkeitsfluid Hände"
Weitere Artikel von Laboratoires Biarritz
Bewertungen lesen, schreiben und diskutieren...
mehr
Kundenbewertungen für "Meteo Logic Feuchtigkeitsfluid Hände"
Bewertung schreiben
Bewertungen werden nach Überprüfung freigeschaltet.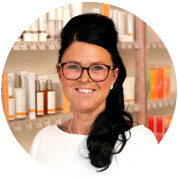 "Das sind meine
absoluten Lieblings-produkte in unserem Sortiment ..."

Annett
BioNaturel-Expertin